Moments are expression! Stories are yours! Gossip is Mine to tell! Enjoy! *Strictly on Gossip*
Saturday, February 11, 2017
For over a year the singer hide her hubby, even the marriage, it was recently that she started showing his face.. The couple some time together with their son..
See another photo below!
Friday, February 10, 2017
This Lady and the Love of her life Adekunle Gold have struggle so hard, So this coming through is probably one of the best thing that has ever happened to them..
Simi is now a brand Ambassador of Etisalat, The singer shared her excitement on her page..
She captioned;
There is said to be a heated arguement between Buhari UK doctors and his well wishing aides, over his tomorrow Saturday, February 11 return, after the presidency confirmed he Hale, Hearty and ready to return.
New reports are now stating that  Buhari's return remains uncertain as his team of doctors in the United Kingdom has yet to certify him fit to take on the significant burden of his office.

The Economic and Financial Crimes Commission (EFCC) on Friday said Andrew Yakubu, former group managing director (GMD) of the Nigeria National Petroleum Corporation (NNPC), claimed that the sums of $9.8m and £74, 000 found in his house were gifts.
Wilson Uwujaren, EFCC spokesman, who disclosed this in a statement, said the money was found in a hidden fire-proof safe.
The Singer is currently in the US to perform at the Grammy Awards, and was so happy to have posed with International celebrities, she captioned the photos; 'in the midst of greatness''
See more below!
President Muhammadu Buhari has ordered for the immediate removal of officers and men of the Nigerian Army and restore the officials of the Department of State Security Service, DSS, as his body guards. According to Vanguard the order was given by President Buhari shortly before he proceeded on his annual vacation to London, United Kingdom, UK, on January 19.
More details shortly..
Evan spiegel is right, Bobby Murphy left

Snapchat co-founders 26year old  Evan Spiegel and 28year old Bobby Murphy are now worth an estimated $4 billion each, according to a new article from Forbes.
Snap Inc., the parent company of Snapchat, is preparing to go public and has a private valuation of $18 billion, of which Spiegel and Murphy have a 22.4% stake in.

The Lagos state Government has released new buses which will take over from Danfo, 'yellow buses' Governor Akinwumi Ambode announced few days ago that Danfos will be banned..
A 20-year-old woman was arrested Sunday and is scheduled to face a judge Monday morning on charges she raped a 4-year-old child
India Kirksey of West Price Hill was arrested overnight and booked into the Hamilton County jail by 12:30 a.m.
The Osun State Police command has arrested a man named Ismail Afolabi for allegedly killing a customer named Afolabi Saheed over land dispute.
The 45-year-old suspect was said to have sold a piece of land to the deceased, but later killed him when he asked for refund following uncertainties trailing the land documents.
Hundreds of passengers on Thursday escaped death when one of the tyres of a Dubai-bound Qatar Airways aircraft burst while it was attempting to take-off at the Murtala Muhammed International Airport, Lagos.
The incident was said to have occurred around 3pm.
Governor of Ekiti State and chairman of the Peoples Democratic Party's (PDP)'s Governors' Forum, Dr. Ayodele Fayose has wished President Muhammadu Buhari sound health urging Nigerians to jointly pray to God for the President to get well soon.
Speaking with some reporters at the Government House yesterday while he he was hosting the General Overseer of Champions Glory Assembly Church, Pastor Joshua Lasisi, Fayose said;
Thursday, February 9, 2017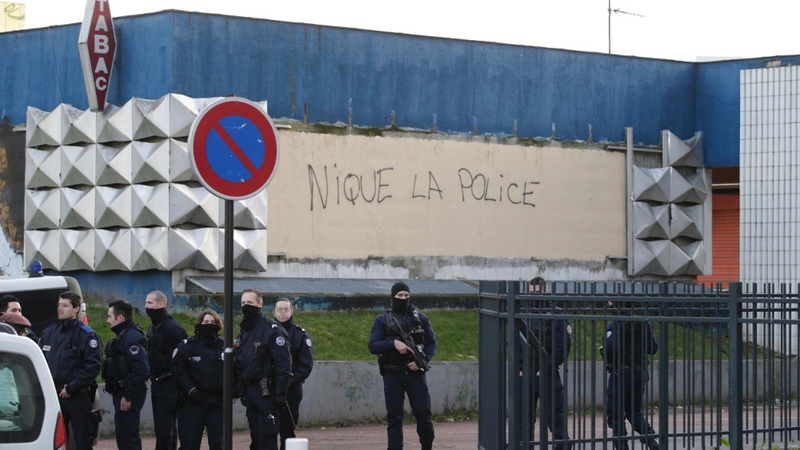 Violence spread in Paris's northern suburbs for a fourth night last night and 12 people were arrested, amid accusations that police officers raped and beat a man they were detaining.
Dozens of vehicles and a nursery school were set on fire by youths during standoffs with police in an area of Paris where riots in 2005 drew global attention to the stark contrast between wealthy Paris and the suburbs that surround it.