Moments are expression! Stories are yours! Gossip is Ours to tell! Enjoy! *Strictly on Gossip*
Saturday, October 8, 2016
 Blue-collar or white-collar, indoors or out; creative or mundane—every profession has its health risks. Some have dangerous working conditions, while others can slowly chip away at your mental and physical health with long hours, high stress, and depressing work environments.
 
Friday, October 7, 2016
It was a sad day for a newly wedded couple as they were robbed at gun point on Friday morning,while returning from their traditional marriage, The Man 
John Itodo 
who's
An Assistant Inspector of Nigeria Prisons Service attached to Otukpo Division and his bride Jesse
had concluded a traditional marriage rite with his bride in Etulo, a suburb of Katsina-Ala local government of Benue State on Thursday and was to move to Otukpa in Ogbadibo LGA same day for their wedding ceremony billed for Saturday.

Hell Ya! The actor is definitely a big yes..

Former Minister of Aviation, Femi Fani-Kayode, has asked the author of the biography on President Muhammadu Buhari, John Paden, to write on how the former General sourced for his 2015 presidential campaign funds. Fani-Kayode, was reacting to a section of the book which stated that President Buhari had documents signed by former President Goodluck Jonathan, which proved that the latter sought for what he described as "extra-budgetary funds".
I would my BF, tho.. would you?
The Presidency, Friday, described as "patently untrue" allegation by demonstrators in Bayelsa State that the federal government was after the family of former President Goodluck Jonathan. In a statement issued by Garba Shehu, presidential adviser on Media and Publicity, he said:
Lol! Is she for real? WTF
Victoria Beckham showed off her charitable side once again during a recent trip to Kenya. The fashion designer, who is a goodwill ambassador of UNAIDS, revealed her nurturing side in a series of black and white pictures, which she posted on Instagram on Thursday.
Thousand of angry Edo state resident today staged a massive peaceful over riggged elections in the just concluded edo state Governorship Election, where the APC leader won.. The protest was tagged #bring back our votes.. see more photos below!
A man named A
demola Oni a former employee of Wema Bank, has been sentenced to 12-year imprisonment over conspiracy and money laundering by the Federal High Court in Ibadan. The court, which was presided over by Justice Joyce Abudmalik on Thursday, also ordered that the convict return all his properties and cash in various banks as proceeds of crime.
The properties to be forfeited by the convict are an empty plot of land fenced with black gate located along the road beside Secam Church, Providence Estate, Sango Eleyele Expressway, Ibadan.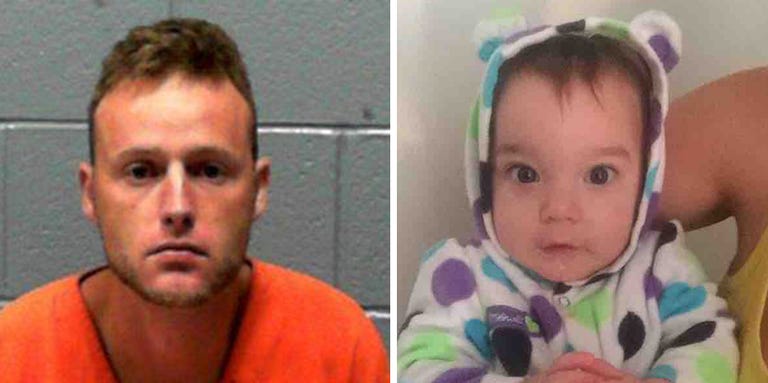 A 32-year-old man in West Virginia was arrested on Monday after allegedly sexually assaulting his girlfriend's 10-month-old infant daughter, who later died at a local hospital.

"It is with an extremely broken heart to announce that our sweet innocent baby girl's fight is over," the family wrote on a GoFundMe page on Wednesday. "She has succumbed to her extensive injuries."
A Federal High Court in Lagos on Friday dismissed an application by former aide to ex-President Goodluck Jonathan, Waripamo-Owei Dudafa, seeking to reverse a guilty plea of four companies charged with him. Dudafa is being tried by the Economic and Financial Crimes Commission (EFCC), alongside two others; Amajuoyi Briggs and Adedamola Bolodeoku, and four companies, over alleged $15.5 million fraud..
The Federal Government on Friday withdrew the forgery charges it instituted against the Senate President, Dr. Bukola Saraki, his deputy, Ike Ekweremadu, and two others.

After the charges were dropped, both lawmakers stepped out of the court to cheers from supporters.
A Muslim gang in Pakistan has reportedly raped a 17-year-old Christian girl over her refusal to convert to Islam. The gang was said to have first kidnapped their teenage victim, Jameela and her brother, 20-year-old, Arif, from Kasur, in the east of the country, before carrying out their illicit act on her, as he (the brother) was forcefully made to watch, Daily Mail reports.
Hollywood star Chris Brown is hitting Africa, Kenya to be precise
for the Mombasa Rocks gig, His on his way to Kenya
on Saturday, October 8..

The Ekiti State Governor, Ayodele Fayose has condemned the treatment being meted out to a national leader of the All Progressives Congress, APC, Ahmed Tinubu, in the party.. It will be recalled that a group known as the All Progressives Congress Youths Democratic Frontiers, APCYDF, had protested at the National Headquarters of the APC against Tinubu's demand that the party's national chairman, Chief John Odigie-Oyegun should resign.
Players and officials of the Super Eagles will now fly out of Abuja Saturday morning, on a chartered flight for their 2018 World Cup qualifying match against Zambia. The Nigerian delegation was initially scheduled to depart on Friday.

The Conditional Cash Transfer (CCT) programme with biometric capture and account opening for the monthly stipend introduce by Presidennt Buhari to help the poor has started in Borno camps for Internally Displaced Persons (IDP)..
Atiku Abubakar, former vice-president, says the federal government took a wise decision by withdrawing the criminal charges of forgery it filed against Senate President Bukola Saraki and Ike Ekweremadu, his deputy. 
He commended the government, "particularly President Muhammadu Buhari for the withdrawal the criminal charges, thus paving the way for the resolution of the impasse between both arms of government".
Nollywood actress Mercy Aigbe's Husband Lanre is a year older today, she took to her page to celebrate him, showering words on him.. she captioned;
"Happy Birthday my Jewel, my gist partner, my quarrel partner😂, my gbeborun partner, my bestie, my lover, my reality check....Olowori mi, Akanbi, Asiwaju Olarenwaju Gentry! The love you have for me, has transformed my life into something so beautiful, wonderful and colourful... 
King Sunny Ade With Hamza Idris-Kutigi, Chief Financial Officer, Temple Management Company

A world class concert in honour of Juju maestro, Sunday Adeniyi Adegeye popularly known as King Sunny Ade has been contracted to be staged by leading talent agency and event firm, Temple Management Company (TMC).
Jennifer Lopez and Marc Anthony are a match made in musical heaven. Five years after the couple ended their seven-year marriage, Anthony's Magnus Media and Sony Music Latin announced Thursday that they have entered a new business deal with Lopez. The companies will be developing and producing Lopez's upcoming Spanish language album, slated for release in November. 
So last week, exactly on the 1st of October a priest sat at an abandoned dustbin on the roadside to celebrate Independence day, In response to what he did the Imo 
State Government yesterday, has now said that it deliberately abandoned the mountain of smelly refuse along the ever busy Douglas Road, Owerri, to get back at the indigenes who have been fighting the administration. Governor Rochas Okorocha's Chief Press Secretary, CPS, Mr. Samuel Onwuemeodo, made the disclosure during an early morning public accountability phone-in programme anchored by Hot 99.5 FM, Owerri.


OAP Tollz who couldn't keep her marriage in a nee Instagram video has said that, As a girl In your 20s, you should pierce your body, have tattoos, have one-night-stands and kiss strangers..  And its interesting, watch below!
Really, weird... Baby's head coming out from the, virgina... oh gush, would you...
The Supreme Niger Delta Youth Council WorldWide, SNDYCW, has disowned the Niger Delta Avengers and the Movement for the Emancipation of the Niger Delta, MEND, describing their activities as "pure armed robbery." The President General of the Council, Prince Michael Newgent Eaton, stated this when the council met with the leadership of the Arewa Consultative Forum, ACF, in Kaduna on Thursday.
The federal government on Thursday withdrew the charges of criminal conspiracy relating to the alleged forgery of the Senate Standing Orders, 2015, filed against Senate President Bukola Saraki and his deputy, Ike Ekweremadu, at the Abuja High Court.